[
swedish
]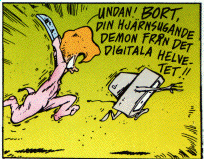 Ibland är det här en bild från min webbkamera.
Just nu blir det Opus istället.
---
table of contents
This is the personal homepage of Stefan Nyström, a computer and music nerd living in Lund, Sweden. Welcome.
The idea is that a personal home page should contain personal information, so go ahead and click on the links below and I promise you'll get an idea of who I am:

---
my own search boxes
Sure, we all know that Google Toolbar is the greatest thing since sliced bread, but I like to do it like we did in the olden days: my own search boxes. Makes me feel all warm and fuzzy inside.
---

This page is guaranteed to be made
from 100% recycled electrons, and is
consequently entitled to use the Duck logo.
This site uses cookies.
new records
A wise man once said "publishing lists of record and tape collections evokes images of lonely, pathetic men who talk incessantly about their cats". Yes, that just about sums it up. Anyway, these are the last couple of records I've bought.
Christine And The Queens - Chaleur Humaine (CD)
Dua Lipa - Dua Lipa (CD)
VA - Now That's What I Call Music! 96 (2CD)
Zara Larsson - So Good (CD)
Depeche Mode - Spirit (Deluxe Edition) (2CD)
Sting - 57th & 9th (CD)
Leonard Cohen - You Want It Darker (CD)
Covenant - Leaving Babylon (CD)
New Order - Music Complete (CD)
James - Girl At The End Of The World (CD)
---
new things
Blogging? Yeah... right. Can't really be bothered, but I have a miniature diary instead:
Ice hockey: Pantern - AIK 2-3; fairly exciting, and a result that didn't altogether reflect the game.
Mary music Annelöv kyrka with LAK.
London! Chiswick evening with Philip Neal Luxury Chocolates, L'appetit Fou, sight-seeing along High Street and Carluccio's.
Small but surprisingly good Insight Astronomy Photographer of the Year 2016 at the Royal Observatory, Tunnel: The Archaeology of Crossrail at the Museum of London Docklands, Café Rouge Kingsway, stunning Yamato - the Drummers of Japan at the Peacock Theatre.
Charbonnel, Prestat, Nike / HMV, Waterstones. Incredible food at Dinner by Heston.
Fish Works, Happy Socks, Hotel Chocolat, Forbidden Planet, Afternoon Tea på British Museum
Opera with mom, Ponchelli's La Gioconda. Very good music and singing, incredibly ugly scenography.
Concert with LAK and the visiting Chor der Universität Hamburg. A very sociable choir, and I'm impressed that they made LAK sing pop!
Thursday night movie - Logan (2017) achieved it's ambition to be a bit more than a simple action flick.
First game of the season, Malmö - Sundsvall two - nil.
[
not so new things
]
"Why search for intelligence on other planets,
when we should be trying to find some on earth?"
If this is your first visit since Friday, July 21 23:46 this page is problably new to you. At least in some small, insignificant detail.