[
swedish
]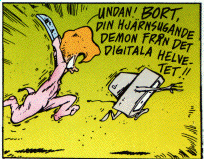 Ibland är det här en bild från min webbkamera.
Just nu blir det Opus istället.
---
table of contents
This is the personal homepage of Stefan Nyström, a computer and music nerd living in Lund, Sweden. Welcome.
The idea is that a personal home page should contain personal information, so go ahead and click on the links below and I promise you'll get an idea of who I am:

---
my own search boxes
Sure, we all know that Google Toolbar is the greatest thing since sliced bread, but I like to do it like we did in the olden days: my own search boxes. Makes me feel all warm and fuzzy inside.
---

This page is guaranteed to be made
from 100% recycled electrons, and is
consequently entitled to use the Duck logo.
This site uses cookies.
new records
A wise man once said "publishing lists of record and tape collections evokes images of lonely, pathetic men who talk incessantly about their cats". Yes, that just about sums it up. Anyway, these are the last couple of records I've bought.
Orchestral Manoeuvres In The Dark - The Punishment Of Luxury (CD)
Dave Stewart - Nashville Sessions The Duets Vol.1 (CD)
Paul Heaton and Jacqui Abbott - Crooked Calypso (CD)
Alison Moyet - Other (CD)
Page - Det är ingen vacker värld men det råkar vara så det ser ut (CD)
Annie Lennox - Songs of mass destruction (2CD)
Christine And The Queens - Chaleur Humaine (CD)
Dua Lipa - Dua Lipa (CD)
VA - Now That's What I Call Music! 96 (2CD)
VA - Now That's What I Call Music 97 (2CD)
---
new things
Blogging? Yeah... right. Can't really be bothered, but I have a miniature diary instead:
Concert with the summer week.
Started my vacation with three daays at the beach: Ribban, Bjärred and Falsterbo. Each of them with their own advanages, but Falsterbo is the best.
Valerian and the City of a Thousand Planets. Sadly not very good, even if the visuals were fairly OK.
Balenciaga: Shaping Fashion and a quick look at Pink Floyd: Their Mortal Remains på V&A, followed by the last evening of the IAAF World Championship with numerous finals and major happiness as both the ladies and the men won the 4x400 finals.
Day trip to Oxford: Prezzo, Oxford Walking Tour with a guide that was slightly disiinterested but knowledgable, Oxford Castle, the nice surprise Fudge Kitchen, brilliant bookshop Blackwell's, tasty food at Gee's restaurant.
Luxury lunch at på Fish Works followed by the traditional shopping spree at Happy Socks, Hotel de Chocolat and Forbidden Planet, finished by a relaxing coffee at the British Museum mwmber's room.
Double feature with Malmö vs Eskilstuna: win for the ladies, humiliating defeat for the men.
Quality time in Falsterbo; really pleasant even though it was late August.
The Dark Tower (2017) was really, really bad. Avoid.
MFF - IFK Göteborg: a draw, after a questionable effort to say the least.
[
not so new things
]
"Why search for intelligence on other planets,
when we should be trying to find some on earth?"
If this is your first visit since Sunday, October 15 00:38 this page is problably new to you. At least in some small, insignificant detail.