[
swedish
]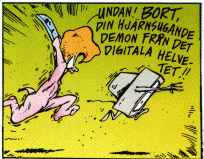 Ibland är det här en bild från min webbkamera.
Just nu blir det Opus istället.
---
table of contents
This is the personal homepage of Stefan Nyström, a computer and music nerd living in Lund, Sweden. Welcome.
The idea is that a personal home page should contain personal information, so go ahead and click on the links below and I promise you'll get an idea of who I am:

---
my own search boxes
Sure, we all know that Google Toolbar is the greatest thing since sliced bread, but I like to do it like we did in the olden days: my own search boxes. Makes me feel all warm and fuzzy inside.
---

This page is guaranteed to be made
from 100% recycled electrons, and is
consequently entitled to use the Duck logo.
This site uses cookies.
new records
A wise man once said "publishing lists of record and tape collections evokes images of lonely, pathetic men who talk incessantly about their cats". Yes, that just about sums it up. Anyway, these are the last couple of records I've bought.
The King's Singers - Christmas Songbook (CD)
Marc Almond - Shadows And Reflections (CD)
Visby Allmänna Sången - Volund (CD)
The XX - I See You (CD)
LCD Soundsystem - American Dream (CD)
VA - Now That's What I Call Music! 98 (CD)
Orchestral Manoeuvres In The Dark - The Punishment Of Luxury (CD)
Dave Stewart - Nashville Sessions The Duets Vol.1 (CD)
Paul Heaton and Jacqui Abbott - Crooked Calypso (CD)
Alison Moyet - Other (CD)
---
new things
Blogging? Yeah... right. Can't really be bothered, but I have a miniature diary instead:
MFF - AIK: 0-0 didn't impress, but the tifo and gold celebrations did despite the piercing cold.
Saw Page at Babel. God concert but stupid volume levels.
Saw Brutus Östlings exhibition Not a single darn bird at Galleri M. Good photographs as always!
Choir camp with Gudrunkören at Sjöröd, a new scout camp we hadn't tried before but were very satisfied with.
Final game of the season: MFF-Häcken 1-2. Powerful and exhilarating celebration of 20 gold medals after the game: players or representatives from every winning year, ending with a visit from Zlatan who finally got to "feel the trophy" before he handed it over to Rosenberg.
Thor: Ragnarok: entertaining as expected.
FCR - Hammarby 0-1. A disappointing final game of the series, but at least second place was already safe.
Second leg of the Champions League round of eight; FCR - Chelsea Ladies. Slight improvement compared to last week, but you don't advance with 0-1. Unfortunally a fair result, since Chelsea were faster and bette ron all counts.
Justice League at the movies: nowhere near as good as Thor, but it was OK. Well, not Ben Affleck who was out-acted by the furniture, but still.
[
not so new things
]
"Why search for intelligence on other planets,
when we should be trying to find some on earth?"
If this is your first visit since Monday, January 15 09:48 this page is problably new to you. At least in some small, insignificant detail.