[
swedish
]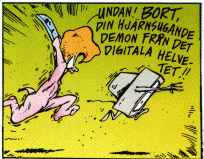 Ibland är det här en bild från min webbkamera.
Just nu blir det Opus istället.
---
table of contents
This is the personal homepage of Stefan Nyström, a computer and music nerd living in Lund, Sweden. Welcome.
The idea is that a personal home page should contain personal information, so go ahead and click on the links below and I promise you'll get an idea of who I am:

---
my own search boxes
Sure, we all know that Google Toolbar is the greatest thing since sliced bread, but I like to do it like we did in the olden days: my own search boxes. Makes me feel all warm and fuzzy inside.
---

This page is guaranteed to be made
from 100% recycled electrons, and is
consequently entitled to use the Duck logo.
This site uses cookies.
new records
A wise man once said "publishing lists of record and tape collections evokes images of lonely, pathetic men who talk incessantly about their cats". Yes, that just about sums it up. Anyway, these are the last couple of records I've bought.
Paramore - After Laughter (CD)
Peps Blodsband - Äntligen (CD)
Marc Almond - Mother Fist and Her Five Daughters (CD)
David A. Stewart & Candy Dulfer - Lily Was Here (CD)
The King's Singers - Christmas Songbook (CD)
Marc Almond - Shadows And Reflections (CD)
Visby Allmänna Sången - Volund (CD)
The XX - I See You (CD)
LCD Soundsystem - American Dream (CD)
VA - Now That's What I Call Music! 98 (CD)
---
new things
Blogging? Yeah... right. Can't really be bothered, but I have a miniature diary instead:
FCR - Linköping. Not very impressed by the 1-2 defeat.
Jurassic World: Fallen Kingdom. Nice special effects, but a bit menadering; you could have stopped anywhere in the final half hour and it would have ben good enough.
Hörby market race. As usual, fun to participate, even if this year was hotter than usual and (probably as a consequence) the number of runners was a bit small.
FCR - Växjö. We seem to be in a slump at the moment, just a draw. Not the best time to say goodbye to Ali Riley, who is leaving for Chelsea.
Business trip to Boston. SK927 on LN-RKP. Fairly good book store the Book Oasis in Stoneham, and Summer Concert Series + Classic Car Show on the Stoneham Town Common with the conver band Funbucket(:-)). America in a nutshell. Crowne Plaza Woburn.
Hilarious Shit-faced Shakespeare at the Rockwell near the rather nice Davis Sq. Good food and coffee at Mr Crepe and Diesel Café.
New England Revolution vs. L. A. Galaxy. Not impressed by Zlatan staying home, blaming the long journey and the turf. Fun game anyway! Holiday Inn Boston Bunker Hill Area.
Tourist run around the River Charles in Boston. Little Italy with The Daily Catch (crowded but good food) and Caffe Paradiso (OK). Taza Chocolate, Pandemonium Books (good but small), Harvard Bookstore, Grafton Street Pub, good ice-cream at J.P. Licks.
Splendid Brookline Booksmith (especially the used books-basement), Peet's Coffee, cosy patio at Anthem by the Faneuil Hall Marketplace.
Music Espresso, Pavement Coffeehouse, Tatte (near Arlington) great for lunch and coffe. Missed my connection in ORD because of SK8836 being delayed. Rebooked to United Business so I'm not going to complain... Holiday Inn Chicago Oak Brook in the middle of nowhere, Walgreens och Starbucks on the local strip saved the day when my baggage was checked in over the night!
[
not so new things
]
"Why search for intelligence on other planets,
when we should be trying to find some on earth?"
If this is your first visit since Tuesday, September 18 00:24 this page is problably new to you. At least in some small, insignificant detail.