[
swedish
]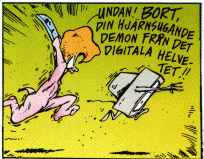 Ibland är det här en bild från min webbkamera.
Just nu blir det Opus istället.
---
table of contents
This is the personal homepage of Stefan Nyström, a computer and music nerd living in Lund, Sweden. Welcome.
The idea is that a personal home page should contain personal information, so go ahead and click on the links below and I promise you'll get an idea of who I am:

---
my own search boxes
Sure, we all know that Google Toolbar is the greatest thing since sliced bread, but I like to do it like we did in the olden days: my own search boxes. Makes me feel all warm and fuzzy inside.
---

This page is guaranteed to be made
from 100% recycled electrons, and is
consequently entitled to use the Duck logo.
This site uses cookies.
new records
A wise man once said "publishing lists of record and tape collections evokes images of lonely, pathetic men who talk incessantly about their cats". Yes, that just about sums it up. Anyway, these are the last couple of records I've bought.
Jay-jay Johanson - Kings Cross (CD)
Pet Shop Boys - Agenda (CDS)
Robyn - Honey (CD)
Florence + the Machine - High As Hope (CD)
The 1975 - A Brief Inquiry Into Online Relationships (CD)
Various Artists - Now That's What I Call Music! 101 (2CD)
Page - Start EP (CDS)
Page - Adapted (CDS)
Page - Är det jag som är en idiot (CDS)
Jean-Michel Jarre - Electronica 2 - The Heart Of Noise (CD)
---
new things
Blogging? Yeah... right. Can't really be bothered, but I have a miniature diary instead:
Quality time with the people from Chiswick.
Potential turnaround of a lousy start to the season? MFF - Östersund, 2-0.
Shazam! (2019). Silly but fun!
Händel's Tidens och Insiktens triumf at Malmö Opera. Fun to see a baroque opera. First half better than the second, but soloists and the orchestra were great throughout.
First home game of the season for FCR against Kristianstad. Comfortable 5-1 in the sun.
MFF - Hammarby. Well choreographed, 0-1 in the interval, 4-1 at the end.
Skrylleloppet! Fun as usual, just managed to avoid the rain, and ran my fastest 10k this year. Not bad.
Tricked into coming along to a handball game, Lugi - Skuru. Apparently the wrong choice since Lugi lost by 35-21.
Workshop och concert-weekend with LAK and guest conductor Catherine Sailer. Fun and rewarding! (I'm so happy, yeah!)
FCR - Göteborg, fair but annoying tie.
[
not so new things
]
"Why search for intelligence on other planets,
when we should be trying to find some on earth?"
If this is your first visit since Saturday, June 22 00:42 this page is problably new to you. At least in some small, insignificant detail.