[
swedish
]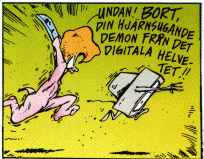 Ibland är det här en bild från min webbkamera.
Just nu blir det Opus istället.
---
table of contents
This is the personal homepage of Stefan Nyström, a computer and music nerd living in Lund, Sweden. Welcome.
The idea is that a personal home page should contain personal information, so go ahead and click on the links below and I promise you'll get an idea of who I am:

---
my own search boxes
Sure, we all know that Google Toolbar is the greatest thing since sliced bread, but I like to do it like we did in the olden days: my own search boxes. Makes me feel all warm and fuzzy inside.
---

This page is guaranteed to be made
from 100% recycled electrons, and is
consequently entitled to use the Duck logo.
This site uses cookies.
new records
A wise man once said "publishing lists of record and tape collections evokes images of lonely, pathetic men who talk incessantly about their cats". Yes, that just about sums it up. Anyway, these are the last couple of records I've bought.
Marc Almond - Mother Fist and Her Five Daughters (CD)
David A. Stewart & Candy Dulfer - Lily Was Here (CD)
The King's Singers - Christmas Songbook (CD)
Marc Almond - Shadows And Reflections (CD)
Visby Allmänna Sången - Volund (CD)
The XX - I See You (CD)
LCD Soundsystem - American Dream (CD)
VA - Now That's What I Call Music! 98 (CD)
Orchestral Manoeuvres In The Dark - The Punishment Of Luxury (CD)
Dave Stewart - Nashville Sessions The Duets Vol.1 (CD)
---
new things
Blogging? Yeah... right. Can't really be bothered, but I have a miniature diary instead:
Winter week with MWIS. This year with good snow and cold Schubert.
Soft start of the football season; MFF - Fremad Amager, 1-0.
Business trip to Boston to fix the network! Holiday Inn Boston Bunker Hill, really good steakhouse food from Del Frisco's, really OK food at Bronze Union, three hours wuick tourism with Beacon Hill Chocolates, Peet's Coffee, Boston Common, Newbury Comics and Trident Bookstore.
First competition game of the year: FCR - Vittsjö 3-0 in the Cup. Cold but fun.
San Fransisco with Aruba, Arrow and Göliska. SAS SK 935 CPH-SFO. Rental car to the city, Holiday Inn Express Union Square. Tasty and fun food at Chef Hung's; the 7 of us and only Chinese :-). Walk to Fisherman's Wharf and Irish Coffee at Buena Vista.
Ran 10 k / across the Golden Gate bridge and through Presidio. Dull lunch at Chipotles, nice shopping trip to Borderlands Books and Dandelion Chocolate. Tried out the neighbour pub Bartlett and had OKish food ag Morton's.
Greasy but tasty lunch at Super Duper Burgers, excellent Amoeba Records. ADequat italian at Puccini & Pinetti.
Presentations at Aruba's new EBC followed by a tour of Levi's Stadium and Aruba's labb. Dinner at Bartlett Hall.
Presentations day two with a tour of Aruba's office and their sweet sixteen bithday. Craft beer at Hopwater Distribution and surprisingly good food at Bubba Gump Shrimp Co.
Ran along the piers to Fisherman's Wharf and back. Good sloppy diner food at Pinecrest Diner.
[
not so new things
]
"Why search for intelligence on other planets,
when we should be trying to find some on earth?"
If this is your first visit since Sunday, April 22 00:12 this page is problably new to you. At least in some small, insignificant detail.